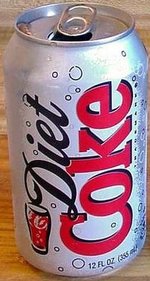 I'm sure one of the resolutions on a lot of peoples lists every year is "lose weight" "eat healthy" yadda yadda yadda.
I ran across this
article
on Yahoo today. As I was drinking my Diet Coke for an afternoon pick-me-up. It was pretty interesting and just coincides with a few other articles I have run across in the past month.
I don't have a lose weight resolution this year, thank goodness. After nine long months all of the baby weight is gone, only the flab remains. (Just keeping it real.)
But I am going to add,
drop soda
, onto my list. Of course, after the two 12 packs in my kitchen are gone...
How are you doing on your resolutions thus far?